Cole's Plumbing in Collin
and Denton Counties
Cole's Plumbing provides commercial and residential plumbing services in Denton and Collin Counties. Commercial plumber services include business build outs, tenant finish outs, renovations, complete remodels and industrial bathroom remodels. Residential plumber services include any water or gas line repairs or remodels. No matter what is happening at your business or in your home, we are ready to jump in and help!

With two decades of experience as local plumbers, not only can we can handle any plumbing work you throw our way we handle it quickly and professionally. Our goal is to provide superior service for the best possible price. We understand that you work way too hard to watch your money go down the drain.

For quickest response call or text (972) 210-9033 or submit the Get an Estimate form today!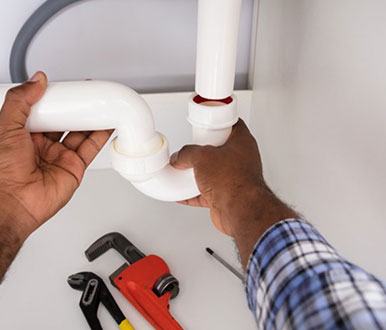 At Cole's Plumbing, we are new plumbing system installation experts. Our plumbers in Denton, TX install new plumbing and replacement pipes professionally and quickly. When you need replacement plumbing installation, we offer fair pricing with friendly service!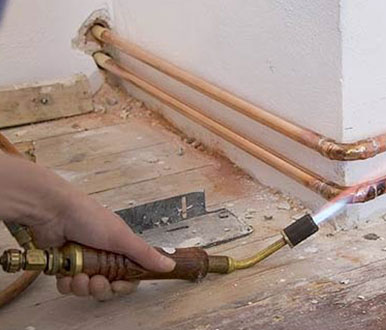 Don't trust your gas line plumbing to just anyone. Our work on your gas line repair or replacement is done properly, whether it's for your home or business. Cole's Plumbing has the best gas line plumbers when it comes to repair and replacing gas lines.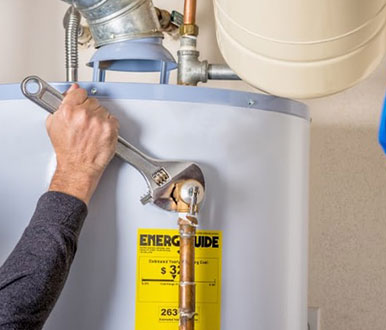 A broken water heater is not only an inconvenience, it can cause damage to your home. Flooded floors and no hot water makes life more than just a little difficult. Let Cole's Plumbing install your new hot water heater professionally and for a great price. Shopping for the cost of installing a new water heater? Call our plumbing repair in Dallas first! Our pricing is fair and affordable.

We always complain that someone is not professional, or someone is not up to the mark, but no one realized that this company and its workers always get ready to help you even if you call them again and again, and if they have done something wrong. I really appreciated Cole's Plumbing team.

Cole's Plumbing did a great job at my house! A pipe burst underneath my concrete foundation. Chad was able to find exactly where the break was and only bust up that one part of the floor, without causing unnecessary damage. He cleaned up when he left, and the price was better than what other plumbers quoted me.

Came when other companies would not due to winter weather! Pipe status checked and measures put in place to allow pipe to thaw, house piping explained, explained which faucets are endangered and should kept running at extreme low temperatures.

Awesome. Fast response and great communication. Spot on estimate of work time and reasonable pricing.

They did a great job on this repair, and I recommend them wholeheartedly!

Cole's Plumbing provided so much nice and friendly service.

With recent snowstorms we were sure we had a plumbing leak in ceiling. They came out and inspected and showed me how to diagnose and see that the issue was due to roof issues and not plumbing. He refused payment because he didn't need to do diagnostic tests to see the real issue! An honest man and I would highly recommend him to anyone who needs a plumber!

Thanks, Chad for fixing my sewer line plumbing issue! I was worried that it would be expensive, since I have a slab foundation, but the price was very affordable.

I appreciate the efforts that been made at my home for renovation and extension of my house. Team is professional and experienced. Strongly recommend for others.

Wow! I am really impressed by their service. Definitely will use him for any plumbing issue. Thank you, Cole's Plumbing!

I had a chance to get their service for shower installation and their team arrived just in 15 to 20 minutes. I am really very happy with their job. I am now their permanent customer.

Coles Plumbing service is marvelous and the teamsters are much cooperative and I do recommend to have a work experience with this company.

If you are looking for a plumbing service in Dallas, then you should call Cole's Plumbing. I was seriously impressed with the professionalism, attentiveness, and care I received from all the plumbers of this company. Hot water heater broke down suddenly and called them. They responded quickly and arrived within 10 minutes. They installed the new water heater and removed the old one within short period of time. I will definitely use them again if needed arises.

Cole's Plumbing provided a very professional, prompt, clean and thorough service. Work was explained prior to being performed. Satisfied customer! I highly recommend Cole's Plumbing!

We used Cole's Plumbing and were so impressed! They were so quick to be to the house and fix the problem and on top of that so affordable! I will definitely recommend it to all of my friends! Thank you again for taking such great care of us!!

Toilet was wobbly and off center, flange was partially gone, plumber had to use his drill to complete work, he installed new shower head and replaced outside faucet, which was broken, awesome job.

We were very pleased with the service we received and gladly recommend Cole's Plumbing to our friends and neighbors!

Wow! I am amazed with how great our experience was with Cole's Plumbing! We had an issue and called at 8:30AM, they were at the house by 10:30AM and had everything fixed shortly thereafter. I was concerned that the price would be crazy since it was same day, but it was very reasonable. Chad was incredible as well. He was thorough, kind and informative. If we ever need plumbing service, Cole's will be the first number we call. Thank you very much!!! 🙂

Amazing service… quality professional work… low cost.

Chad has the knowledge, skills and work ethic that is not always easy to find these days. Work was done on time, price was reasonable, and finished product was high quality. Clear and precise communication, up front advises on expectations, and follow through exactly as advised. Highly recommended!

Mr. Cole was amazing! He was professional, knowledgeable, and got the job done efficiently and effectively. Thank you so much! We would definitely recommend his services, and we will use him again!

WOW!! I cannot say enough great things about my experience. I called another plumber and got an estimate of over 350 to fix my hot water heater, which I knew wasn't right. I called Cole's plumbing and left a voicemail. He called me back about an hour later and was able to get to the house later THAT DAY!!! Fixed my hot water heater for less than half of what the other guy estimated. Got the work done in under 20 mins. Was super friendly and was willing to call my home warranty to work with them! So glad I called!

So impressed with Chad! Professional, punctual, and very patient with me as I asked my millions of questions. He was fair and his prices were reasonable. Five-star service and I will definitely be referring him to my friends and family!

Amazing service… quality professional work… low cost.

I had an emergency with my plumbing. I called 8 local companies before I was told to call Chad at Cole's Plumbing. He came instantly. I really believe the good Lord above was watching over me!! He had to deal with a corroded pipe that was about to break and cause a tremendous amount of damage. It was NOT an easy fix. I watched him the entire time and recognized he knew exactly what he was doing Very reputable Very honest Very timely I won't ever call on another again. Please contact me if you'd like more details. I highly recommend them!

Fast friendly and affordable! Will call again and highly recommend!

Chad was very professional, and the estimate was really reasonable. He showed up on time and completed on time and no "unforeseen" issues that so many service companies throw at you. I would highly recommend them for any type of plumbing issues.

Chad came over, I explained my problems and he took care of them. So happy I called Cole's Plumbing. Awesome job, reasonable price and quality workmanship.

Cole's Plumbing responded with professional service at a great price! They had my water back on within a short time. I recommend them to all my family and friends. Do yourself a favor and use Cole's for all your plumbing needs!

This guy's amazing, very professional and extremely fair on price. I had to pay for a water line ruptured in my backyard, it was all out of pocket. He was by far the most reasonable and did an outstanding job. Not only do I highly recommend, but I'm also going to start using him at my workplace. Thank you, Cole's Plumbing.

I reached out to Cole's Plumbing after hours on a Tuesday about a broken outdoor faucet that needed to be replaced. They immediately called me back and set up a time to come out to the house the very next morning. They were on-time exactly when they said they would be there and immediately got to work replacing the outdoor faucet and plumbing. They explained exactly what was wrong and what they had to do to fix it, and I could tell they are very knowledgeable. All the work performed was top-notch. I'd gladly rehire them again and will recommend to them everyone!

Called and got same day service! Very professional and got the backup fixed. Thank you, Chad, you got it all fixed promptly!

My mom had a gas leak we called Coles Plumbing and we talked with 10 different plumbers and they all said 3 to 8 days and we called Chad and he came right out and gave his heart and soul to the job and seriously less than 10 hrs he had the job done and we waited on the gas company to turn the gas on… this company is no joke! Amazing work and the integrity and character on the job is even more amazing! The bricks that he took out and I mean a lot of bricks were literally washed off and stacked neatly to the side! Thank you, Chad, and Cole's Plumbing for going above and beyond for my mom!!

Excellent! Will never look anywhere else for another plumber! Superior service!

Amazing customer service. Clean techs, know their stuff, and beat earlier quotes by a good margin. Couldn't have asked for a better experience….

Cole's Plumbing came quickly for an estimate, he was half the price of Scottco for the same repair of a new gas line from the meter to the house. They stuck to their estimate and had to fix some leaks inside the house also when completed to pass the city inspection at the price he quoted for the additional repair which he explained up front at the initial estimate. They worked fast and had the gas line dug up and replaced within 24 hours, city inspected and back up and running within 48 hours.

Good service can call anytime and will do his best to get the job done in a timely manner. Courteous and efficient I would use again and highly recommend to all my family and friends. Thank you, Chad.

Chad came in, told me what needed to be done, we went over the budget. He was thorough
and in no time it was done. Very professional. Would recommend him to anyone he deserves an A+.

Would highly recommend to anyone and will definitely use again if the need arises. Got us in the next day, worked diligently to find the problems and had us up and going ASAP! So easy to work with!

I've never had as good of service as I got with Cole's Plumbing! They did such a good job after my water heater flooded my garage. Super courteous, fast, clean, and efficient!

Great and speedy service came out to my house and got everything I needed done and did it in no time flat. Got a follow up call on how the service was, and I would have to say it was a 15 out of 10. Must say thorough service and great customer service. I would recommend to everyone in needing speedy services.

It was very good. He was very professional. He didn't waste my time.

I was extremely impressed with the level of professionalism, and the quality of work, performed by Cole's Plumbing! The work was done in a timely manner, and I was so glad that I chose this company to do the work my home needed. I would highly recommend them to do any and all plumbing work!

Very professional and kind. I liked that he was honest with what I really needed. He didn't try to talk me into something I didn't really need. I even called after hours and he was way better priced than the others!!!!

I'll have to give Cole's Plumbing 5+ stars. Reliable, Fair, honest. I highly recommend his services! – Thanks Chad!!

Chad was very fair and reasonable on the major repairs my mom's house needed. He cuts no corners and does the job right. Will call him from now on when I need a plumber.

Same day service and excellent service. Highly recommended!!!

Professional, honest and timely! I highly recommend Cole's Plumbing.

Friendly and fast and great rates.

Cole's Plumbing is always very professional, helpful, timely, and fairly priced. I highly recommend them for your plumbing needs. I will never use anyone else again!

Great service friendly super helpful. They make a difficult job look easy, and really want to help their clients. I will be contacting them for all my plumbing issues/needs.

Prompt, professional service. Will recommend.

Service was great he was on time and kept me informed of any other problems I might have in the future and also clean up very well after he was finished.

Such great and quick plumbing services!! Affordable too. Would recommend to anyone!

I called Cole's plumbing for their services for an inspection on a home I'm hoping to buy. The previous owners hadn't done a sewer line check before they bought it. So I decided I wanted to have a thorough check on it. I called them on Monday and they came out the same day. It was a huge weight off my shoulders to know I didn't have any sewer problems to worry about. From start to finish it was a little over an hour! I highly recommend Cole's Pluming for any situation you have!

One of the best plumbing services I've ever had. Very time convenient and cost worthy. Cole's plumbing came in and looked at my bathroom I was having trouble with, spotted the problem right away and got me fixed up quickly and efficient. I recommend Cole's plumbing for any of your plumbing needs.